Relationship and Couple Counseling
Are you looking for a way to create lasting positive change in your relationships? Are you seeking greater connection, understanding, and communication with your significant other? If so, couple/relationship counseling may be an option worth exploring. 
Relationships can be complicated, even when you feel as if you and your partner are inseparable, but sometimes a helping hand is needed to make sure that your relationship stays strong for the long term. Whether it's communication issues, trust problems or feeling neglected, these all can affect how much love and passion two people have towards each other. 
That is why relationship counseling/couple counseling exists, as a place to talk through any of these types of issues in order to ensure a fulfilling relationship for both partners. Taking this proactive step towards addressing problems that could potentially arise in the near future or, worse yet, bankrupt any hope of reconciling differences between romantic partners. 
Couple counseling online or online couple therapy helps enhance relationships by providing insight into dynamics within the relationship, allowing more meaningful conversations about expectations going forward to benefit both parties involved.
What Does Couple Counseling Address?
Couples counseling may address one or more of the following:
Arguments, disagreements, or fighting

Communication issues

Anger management

Anxiety and stress

Depression

Different expectations or wants for the future

Future planning

Addiction or substance abuse

Adoption or blended family challenges

Infidelity or loyalty issues

Infertility or decisions about having children

Parenting conflicts

Relationship building and bonding

Life transitions

Mental health challenges

Sexual difficulties

Unemployment or financial challenges
How Does it Work?
Couple counseling is a unique form of therapy dedicated to helping couples understand each other better and build a healthier connection. During counseling, both members of the couple may bring up topics in their relationships, such as communication barriers, differences in values, or unresolved conflicts. Each partner is given the opportunity to share his or her point of view before addressing solutions with their counselor's guidance. 
Through this process, couples can learn how to better empathize with one another and respect each other's perspectives while still agreeing on a shared goal. Counselors use their expertise in communication to foster understanding between partners while providing tools necessary to nurture growth and harmony. 
Practicing effective communication techniques, gaining insight into potential underlying issues, and developing solutions together can assist couples in overcoming novel and entrenched difficulties while further strengthening the bond between them.
Types and Techniques of Couple Counseling
Best online relationship counseling or couple counseling combines psychological and emotional techniques to focus on the understanding, communication, negotiation, and resolution of conflicts that arise in relationships. There are many different types of couple counseling, ranging from traditional therapy sessions to Imago Therapy,  an approach based on the concept that we each seek to complete, heal and become whole. 
Every type of couple counseling involves different techniques. These can include discussions, questionnaires, self-discovery exercises, and role-playing activities, among others. Various techniques can be used, such as behavior modification therapy, cognitive-behavioral therapy (CBT), psychoanalytic techniques, family systems approach, and Conflict Resolution Therapy. 
When Should you Consider Taking Relationship/Couple Counseling?
When it comes to relationships, sometimes finding our way through the challenges can be difficult. That's why best couple counseling online can provide helpful support for couples who find themselves struggling in their relationship. There are plenty of indications that indicate when it might be time to consult a relationship/couple counselor. 
One common sign is if you feel like no matter how hard you both try, you simply can't seem to resolve a particular problem or conflict. If the same arguments and miscommunications keep arising, even after multiple attempts at finding solutions and reconciliation, then seeking outside advice could provide some much-needed perspective and guidance. 
Other times it may be worthwhile to look into counseling if you find yourselves growing apart, whether emotionally or physically. This type of counseling could help reestablish your connection and bring back trust and understanding between the two of you. 
Ultimately, it's an individual decision and should only be taken up when both parties are on board with the idea, but recognizing the signs can be beneficial in cultivating a strong, healthy, lasting partnership.
Our therapists are ready to talk to you within 24 hours of booking.
How can Relationship Counseling Online Help you? [7 Benefits of Pre-marital/Couple Counseling]
When it comes to the long-term success of your relationship, Premarital Couple Counseling is a powerful tool to ensure that you and your partner are on the right path. It can be an immensely beneficial experience for couples who take part in it as it provides insights into important topics such as communication, conflict resolution, finances, and expectations. 
Research shows that couples who attend premarital counseling have greater satisfaction with their marriage than those who do not, often leading to improved communication and lasting commitment. Additionally, premarital counseling can prevent small issues from turning into bigger problems by encouraging the couple to openly discuss hot-button topics before they become contentious later down the road.
Some of the many benefits of premarital counseling include improved communication skills, increased self-awareness, enhanced problem-solving strategies, additional conflict-resolution strategies, tailored bonding activities for the couple, enhanced trust and intimacy between the partners, and healthy relationship management tips. 
All these benefits have proven to create more harmonious relationships and happier marriages. Don't hesitate to start your premarital counseling journey today for a successful marriage tomorrow.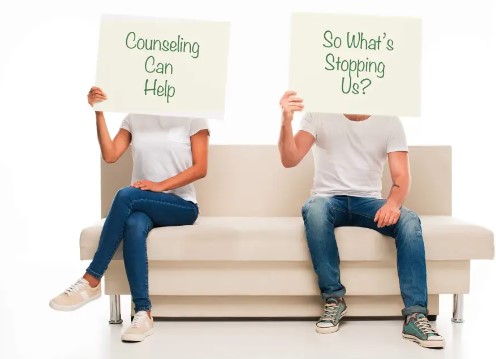 How to Find the Right Relationship/Couple Counselor?
When looking for the right relationship counseling service, it is important to take into consideration not only the type of counseling they specialize in but also other nuances that may make them a great fit. Start by doing your research.
There are numerous online resources with reviews and ratings to help narrow down possible choices. Once you have a handful of potential candidates, take some time to check out their website or social media accounts.
Do they seem like someone you'd be comfortable talking to honestly and openly?

Does their approach align with your values?

Are there specialties in counseling topics they are well versed in that resonate with you?
It's also beneficial to ask questions during an initial phone consultation before committing to therapy. Clarifying any apprehensions and gathering the essential information needed is key- so don't beat around the bush.