For many, the idea of embarking on the journey of individual counseling can feel daunting and overwhelming, even when they are struggling with life's challenges and difficulties.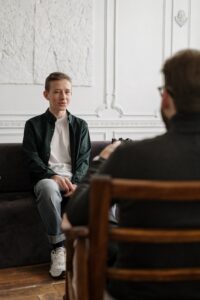 But sometimes, having an objective third-party help us work through the issues that weigh on our minds can be incredibly beneficial. 
For those who are willing to take that step and commit to their own growth and development, individual counseling online is an opportunity for deep self-exploration and powerful transformation. It can help individuals find the solutions and clarity they need in order to move forward positively in life.
Working with a qualified therapist in individual counseling offers a safe and supportive atmosphere within which you can develop rewarding coping skills, gain insight into yourself, and come away with long-lasting changes that can positively impact all areas of your life. 
Now, let's explore why individual counseling may be the answer for those looking to make positive changes in their lives.
Our therapists are ready to talk to you within 24 hours of booking.
What is the Major Purpose of Individual Counseling Service?
Individual counseling is a form of therapy designed to help people navigate life's many challenges, from managing basic stress to more serious issues like childhood traumas, depression, and anxiety. The major purpose of individual counseling is to empower people with the tools they need to overcome their childhood traumas, move through current difficult times, and ultimately reach a state of emotional well-being.
This therapy is often used by those looking to increase their self-awareness and insight, address specific issues that are causing difficulty in life, or develop strategies and skills necessary to resolve conflict more effectively. It provides a safe haven for individuals to share their experiences and work through problems in collaboration with a trained professional.
Through open communication between the counselor and the individual, goals can be established to better address problems at their root cause. Ultimately, this empowers the individuals to live happier and more honest lives where they can work on self-development and take charge of their own lives while being compassionate towards others.
How often should I get individual counseling or how long does therapy take?
Finding the adequate frequency and duration of individual counseling can be difficult as it is highly dependent on the individual's therapy goal(s). Generally speaking, rapid and authentic changes are better achieved with more frequent sessions. For example,
If someone is seeking to address severe anxiety, depression, or trauma, then sessions may be scheduled

twice per week.
If a person has already made considerable progress but wishes to focus on integrating their successful strategies into daily life, they might only visit the therapist once every two weeks.
Ultimately, it is advised that the therapist and patient come to a personalized agreement which best suits their therapeutic goals and lifestyle.
The Importance of Individual Therapy
Sometimes, it can be difficult to make difficult decisions or face challenging situations alone. Most people turn to someone close to them for advice when facing a difficult or confusing issue, but there are times when professional counseling is the most effective option. That is why individual counseling can offer great help. It provides a safe, non-judgmental space that allows a person to explore the challenges they face in their lives.
By engaging in the best online individual counseling sessions or taking online therapy, individuals learn practical strategies for gaining insight into their thoughts and emotions, as well as how to take action to resolve issues that are causing distress. People also benefit from developing better communication skills to facilitate more positive interactions with others, thus creating stronger relationships and a healthier environment for personal growth.